---
| | |
| --- | --- |
| Easy Photo Editing Software for Beginners - Free Download | |

Use photo editing software and create professional photos with FotoWorks XL. Edit your photos in professional quality.
A professional easy photo editing software for beginners gets exactly the optimum out of a picture, which respective user wishes for visual tonality. Depending on the taste, images can be presented in a factual and emotionless way or artfully edited and accentuated. This image editing software is used for product photography as well as for creative work of any kind. If you want to edit your photos competently, it is best to use an image editing software that is both easy to use and has effective features.

Photo editing software for PC is particularly recommended for this purpose. Regardless of the purpose for which photos are to be optimized - in any case, a user-friendly operation is recommended. This makes improving particularly fun and results are correspondingly impressive. FotoWorks XL meets exactly these criteria of user-friendliness as well as impressive picture results.



Photo Editing Software Free download

Screenshots - Photo Editing Software
What Means Editing Photos with Easy Photo Editing Software Generally?
Editing photos is called post-processing of digital photos with a brilliant image editor for windows 10 suited for beginners on PC.
The main issue in image processing is to improve images. The possibilities are virtually limitless. Without picture editing programs probably would appear on any Cosmopolitan cover natural blemishes and the playmates were not quite as perfect as they are presented. Landscapes are greener thanks to image editing and sunsets more romantically. The list could extend much further.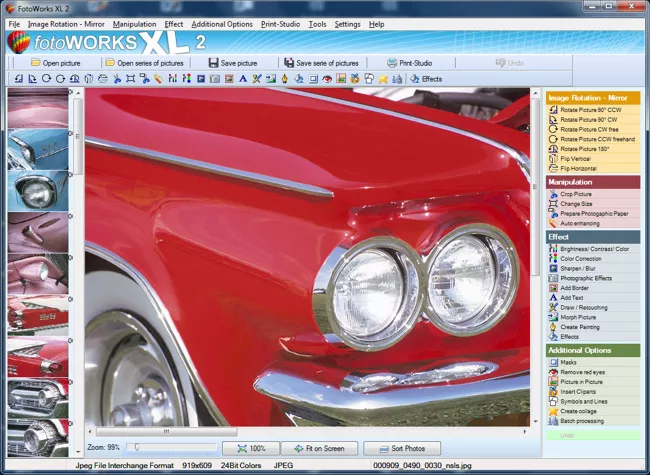 Screenshot Photo Editing Software

The invention of numerous tools to make photos more expressive with a picture editing program has revolutionized our print media in many areas. Meanwhile picture editing programs are also increasingly used by amateur photographers to move digital photos in a better light. With this photo-editing program, you can save files as a JPEG. These photos can also be printed as before in each photography laboratory on glossy paper, you can transfer your beautiful works in picture frame, print as a poster or pin with magnet on fridge, you can send it with e-mail to friends or share on social media platforms and on your private website!

This photo editing software made for Windows 11 ®, Windows 10 ®, Windows 8 ® and Windows 8.1 ®
For Whom Is a Photo Editing Software for Beginners?
Everyone knows simple apps that are nowadays already installed on any smartphone to perform photography editing. With these you can make your photos according to your wishes. If that is not enough, you have a lot of alternatives. Whether amateur or professional, you can buy a matching program and use it to edit your photos. Some are even available as a free download for all operating systems, such as FotoWorks XL. There are already offered for many photo editing software video tutorials, that you may be fast an expert in the field of image editing. Such tutorials give your assistance and suggestions when you want to edit photos.



Photo Editing Software Free Download
When Is a Easy Photo Editing Software Useful?
Actually, is for anyone who snaps digital photos, a program for enhancing photos not only useful, but almost mandatory.
It does not always have to be a professional program for editing photos, but a photo-editing program is worth even for amateur photographers with security. In a digital photography errors of all kinds can occur. There are errors in color when camera sensor, incident light does not extrapolate correctly or it may happen that your photography is not exactly aligned, because you, for example, had no tripod here or simply you had to be fast and therefore something slipped on image that does not belong. Also, contrast and brightness is not always perfect in the moment when you shoot a picture, especially if you want to quickly grasp a situation that lasts only briefly. Such errors can be eliminated by using a easy photo editing software. In short, for anyone, even for you, it is useful and important to use a program to edit photos, even if you wish perfect memories in form of photos. We would like to point out that we were named as the winner at "Gameenflame". On this site is a wide selection of PC photo editing software, which is compared and honestly evaluated.
What Exactly Can a Photo Editing Software Yet Everything?
You should rather ask what a easy photo editing software cannot?
Just about any image defect can be rectified with a little know-how. For example: You're out in nature on go and this one tree fascinates you, but stands in the shadow? Make your photo, even if you think, "too dark, too bright, not the right light"! Back home at the PC you can make your favorite tree brighter, darker or greener thanks to modern image editing programs. You take pictures with preference when you are amongst people, as by corporate parties, at games night in living room, by a cozy meal with friends, or?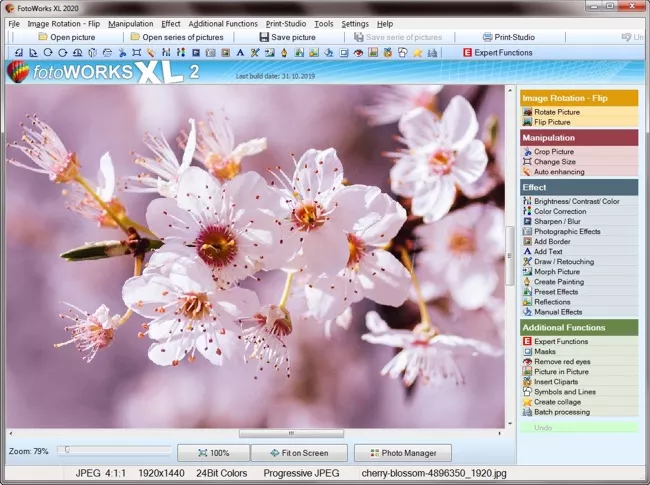 Screenshot of Easy Photo Editing Software

Then you also know with certainty the red-eye problem and when undesirables persons appear on images. If you're a bit more familiar in dealing with image editing programs, this is no longer a problem! With just a few clicks and very little expenditure of time, you can remove red eyes and can cut and remove unwanted person from photos. Or if you miss a dear person in an image, you can photograph them separately. With your easy photo editing software, you can add the person in the picture of your remaining friends. You can cut out a person who is missing on photography and put it by inserting a new layer to an existing image. Is not the simplest, but also for laymen easily doable? Of course you can also edit photos that already comply with your requirements and perfecting this even further. For this purpose a photo editing program offers a lot of picture effects. So you can, for example, emphasize some points on your image and add a light reflex at the desired location. Even with different color effects you can give special expression to your photo: a beautiful woman in black / white and highlighted lips with your picture editing application in red - simply wonderful.
Which Picture Software Is Right One for Me?
For beginners, it is first of all important to be familiar with interface of the picture software, with which you want to edit your photos.
Therefore, it is better for laymen to begin with a well structured program. The clear menu guidance of a photo editing program for beginners provides for the fact that you immediately do not lose desire because you see no success or are demanded too much because of many menu points. If you know first of all what you must pay attention by treatment of photos to, it is maybe in the time to try out also something more professional. However, besides, you should not forget that also photography software which are available free of charge as a download offer many hidden possibilities which you will only discover when you have dealt more radically with it.



Easy Photo Editing Software Free Download



One of these image editing software is Fotoworks XL. It is offered for all Windows versions, already for Windows 10. The menu guidance is clear and can easily be learnt from laymen. So, simply download our program and get started so that no perfect moment must be extinguished in your picture collection because of faults in an image.
Does a Photo Software Falsify the Moment?
Edit photos individually with professional photo editing software. No, the application of a photography software is an art for itself.
Once you have found the right application for you, you will not want to miss this photo editing software for your use. This may come as no surprise, because once various features have been tried out, it quickly becomes apparent just how effective good photo editing software really is. A photo editing software like FotoWorks XL is not only effective, but a respective image edit, provides an enormous amount of pleasure. Experiencing transformation or optimization of a picture from the beginning to the final result is very interesting, not only for professional photographers. In this context, it doesn't matter how many and which editing features are used.

Those who are not yet sure where to go visually can experiment with photo editing software to their heart's content. For example, those who want to change color of photos can edit images accordingly and use respective tool. With just one click, photo editing software such as FotoWorks XL ensures that an image is colored as desired, red eyes and skin imperfections disappear, nature shots shine with even more contrast and similar effects more.
Photo Editing Software for Every Need - Tools and Features Easy to Use
With photo editing software, the same photography can be translated into countless different image variations. This fact is used not only by advertising professionals for product photography, but also by amateurs who simply have a penchant for creative photography art and want to express themselves artistically in this field. A good photo editing software can do more than just remove red eyes and eye rims or change color of images to sepia or black and white. Here, too, it's worth experimenting creatively with photo editing software and seeing which contrast intensity you like best. If you want to edit your photography in this direction, you don't need any previous knowledge of photography for this, as tools and features of photo editing software are easy to use. Thus, it is then especially easy and photography enthusiasts can edit their pictures at will.

Of course your picture not only becomes perfect by the application of a photo editing software for beginners, it puts a lot of effort behind it, until you are satisfied. In it there lies challenge and, therefore, it is also art to work on photos in such a way that you and all the other viewers are impressed at the end.


What Must You Pay Attention To, If You Use a Photo Editing Software for Beginners?
By the editing of photos it is important that you make clear to yourself before, what you expect from suitable basic material and from a photo editing software for beginners.
Would like you to let the moment look simply more expressive? Then it is advisable to adapt just contrast, brightness and adjustment of photography. Do you want your picture remains intact, but acts more impressive? Then use effects: stress the most important places of your snapshot with effects offered by this program. For example, you can let eyes look more piercing, while you use a light reflexing at the right place in the photographed eye with your easy photo editing software or emphasize color of irises stronger.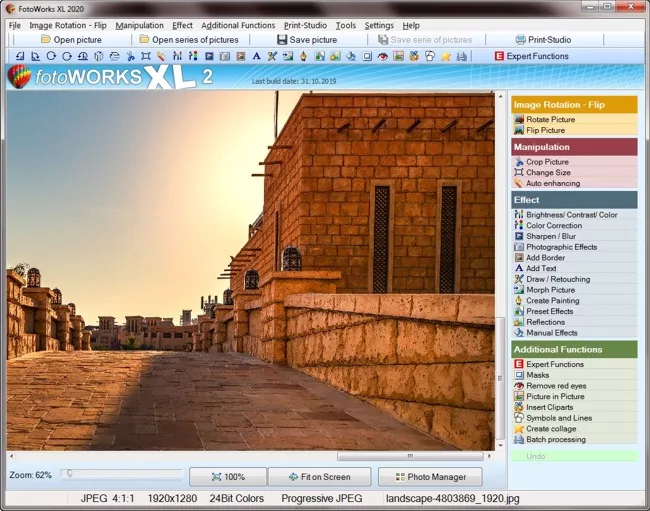 Screenshot of Photo Editing Software For Beginners

Limits are hardly set to your imagination by the treatment of pictures. Of course you need some practice, but what claps already without ambition? Why should it be different with a photo editing software for beginners? So: never lose courage if you have not provided a piece of art in form of a picture within few minutes. You must also train to use a photo editing software for beginners, as by an instrument. As soon as you have appropriated some degree in security, you will also achieve desired success.



Photo Editing Software For Beginners Free Download



For beginners it is advisable to download the software Fotoworks XL free of charge and to make itself familiar with possibilities of a easy photo editing software for beginners. With it you can reach everything what also expensive photography software offer for professional photographers only easier and more clearer.
Can You Use a Photo Editor Commercially?
Yes, also in business world it is important to work on his photos with a photo editor!
Without digital processing many posters and advertising signs would be only a half as attractive. Also here it is helped with a photo editor for windows 10 suite to let promoted product look more tempting. Try this photo editor for free! Each of you is confronted daily with effect from photos which achieve her effect because intelligent programmers realized a magnificent idea of this photo editor software. So: what stops you still from profiting also from this magnificent idea?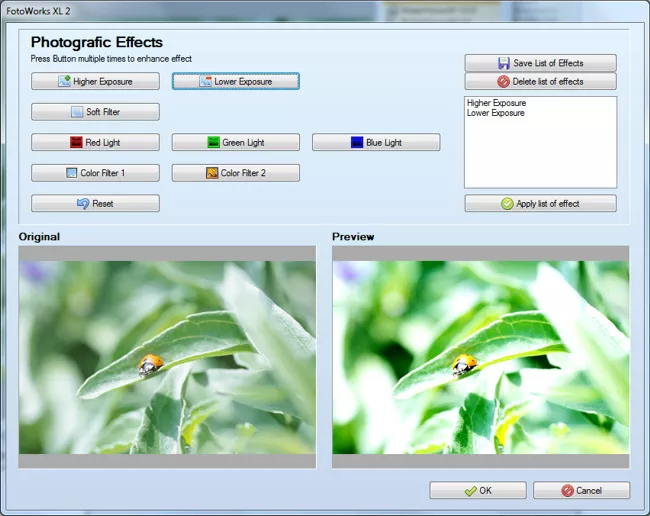 Screenshot Photo Editor

Free download
Fantastic Photo Editing Software - Surrealism Is in Vogue
If users want to edit an image to visually enhance their photos, photo editing software for computer like FotoWorks XL is an excellent option.
Furthermore, photo editing software can also be used to edit or prepare fantastic images so that they ultimately appear surrealistic. This genre is not only trendy, but also occupies its own niche in the field of photography art. From a simple portrait or landscape picture, for example, photo editing software for PC can conjure up a true work of art. Users who are eager to experiment quickly discover how many transformation possibilities one and the same image ultimately offers and appreciate the extensive potential that really good photo editing software provides. The effect of different colors and their contrasts alone should not be underestimated in this context and has an intensive impact on this respective picture.
Product photography
Landscape photography
Portraits
Photo art surrealism
Collage style
Edit, Crop, and Stitch Photos for Original Image Collages
Editing a picture is more fun the more tools and functions are available. This means that not only color and contrast modification are enormously effective for a picture, but also cutting tools. Users can use them to create their own image art, cut out individual image fragments and paste them in other places, just as they like. This is especially true for this photo editing software for Windows. These particularly visual effects are likely to attract a lot of attention from the viewer, and those who like can also wonderfully frame their works and hang them on the wall.

A self-created picture always has great advantage that it is unique and does not adorn walls in every second living room. Individualists and users with a sense of originality will take great pleasure in these functions and will certainly use them accordingly often. With photo editing software for computer, respective color contrasts can also be varied as desired. Sophisticated image collages can also be created at will, and the bottom line is that professional photo editing is a hobby with lasting added value. In any case, the motto is, editing pictures made easy, and with a lot of fun in editing process itself.